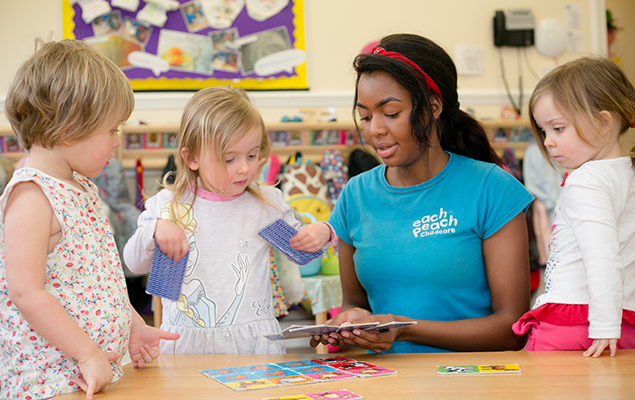 Each Peach Recruitment Evening | Tues 23rd July | 6.30pm – 8.00pm
Come and join us for a Recruitment Evening and BBQ at our wonderful Hove Nursery!
Do you want to use your skills to work with babies and children?  Are you looking to for career opportunities in Early Years?  Do you have an unrelated degree and want to join us to do your Early Years Teacher Training?
We are expanding our staff team and this opportunity could be just what you need. A chance to work with other dynamic individuals who are enthusiastic about their role and who have benefitted from our ongoing programme of professional and personal development. Children remain firmly at the heart of our provision and they benefit from a fantastic teaching and learning environment. We know that the role of the adult is key to the developing of a child and we can unlock your potential!
The evening will begin with….
A tour of our beautiful nursery with our fantastic and very experienced Nursery Manager, Suzanne Charlesworth.
Suzanne will show you our carefully designed learning environments. We have a baby room, family rooms, a brand new discovery room and well resourced garden. You will hear from Suzanne and a number of staff, who will be on hand throughout the evening so that you can ask any questions.
Our MD Kate Peach will lead our talks
Kate will speak about her beloved nurseries, why she believes they are great places to work and what opportunities are available.
Kate has over 20 years in the childcare industry, she has an infectious passion for what she does, infusing everyone she meets with her energy and enthusiasm. Kate is a font of knowledge and enjoys meeting new people and learning new things, which she then in turn empowers and inspires the people around her. Kate has recently been recognised as one of the Top 10 Most Influential People within the early years sector.
'Progression within the company,' Ellie Cartwright, Deputy Manager
Ellie will talk through her career progression while being at Each Peach, Ellie started as a Room Lead, quickly progressed to a Senior and is now the Deputy Manager of the Hove Nursery.
'Working part time as a parent' Ayeshea Graham, Nursery Teacher
Ayeshea has a wealth of experience within the early years sector and has worked at Each Peach for a number of years. She will speak about how the nursery is able to help her work part time so she is able to look after her own children, the benefits and the struggles and how she works alongside her management to achieve the best outcome for everyone.
'Each Peach Forest School,'  Fay Sandalls, Nursery Manager at Each Peach Forest School
Fay will give a brief outline of what our sister site is like and what it is like to be a member of staff there. She'll explain what a nursery teachers day to day role is like within a forest school and also a bit about the training she went through to become a qualified forest school teacher
'The important role of the adult in children's play,' Alison Featherbe Early Years Trainer and Consultant
Alison is a nationally recognised Early Years expert and University of Sussex and Brighton Mentor. Alison has worked with Each Peach for a number of years, providing us with high quality continued professional development. Alison will inspire you with her passion for the role of the adult in children's play and will be available all evening for you to talk to.
You will have lots of opportunity to ask questions, find out about how you can develop your knowledge and skills here at Each Peach Hove and get to know us all much more!
Please book your place at https://eachpeachrecruitmenteve.eventbrite.com
If you have any questions by emailing Jessica Harman at jess@eachpeachchildcare.co.uk.