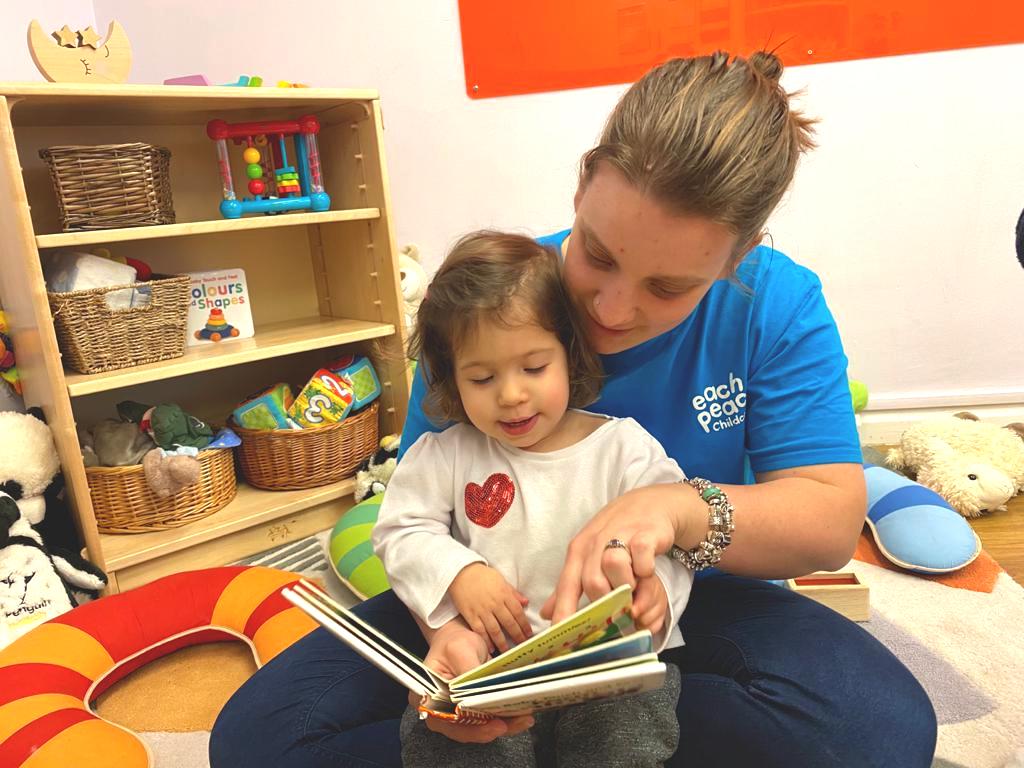 Each Peach Employee of the Month, Mollie
We're very pleased to announce that our employee of the month for January is Mollie based at our Hove day nursery. Mollie stepped in to cover for Ellie's maternity leave recently as Deputy Manager and immediately hit the ground running. She's really embodied her role, getting stuck into every task that comes her way. 
Mollie was awarded employee of the month for January in recognition of being a great asset to the Under 2's team, not only bringing her wealth of experience to the age group but always being a positive example for those around her. Mollie has a crazy fun attitude towards her role and is always making others laugh. Her hard-working approach really motivates and supports others and her commitment to high quality experiences for children always shines through! No job is too big or too small for Mollie, she's always there to give it a go and help out others. 
Let's get to know our employee of the month
Mollie has two children, Flynn (6) and Quinn (4) and spends most of her week helping with the care and development of Cherry Blossom's (our under 2's) in Hove. On Friday's she's office based managing the day to day running of the nursery. Here's a quick Q&A with Mollie so you can get to know her better:
When did you first decide you wanted to work with children?
I knew from a young age and always loved playing with my dolls. Initially I went into childcare to curb my broodiness and from there I developed a love for watching children grow and develop with my help and encouragement. Even after I became a mum, I still really loved working with children and watching how each individual child develops their own personalities to become their own little person.
What do you like to do in your spare time? Any other hobbies?
Apart from taking care of my own children and running them around to their various clubs and play dates. When I have a free evening me and one of my friends love having a movie night and watching different films that we wouldn't normally watch. It can either be a total disaster or we realise we've been missing out on a very good film! I'm also in a book club with some of my school mum friends we are currently reading the Hunger Games.
When did you join Each Peach, and why do you love it there?
I joined in November 2019 and since day one I've loved it here. The staff are so welcoming and friendly. Everyone's work ethic are aligned with mine and the way the nursery is run and the ethos is what I strive for in a working environment.
What is your fondest memory at Each Peach so far?
One of the under 2's learnt my name and said it. It may sound like a small thing, but in the early years it's the little things that count. 
What are your favourite activities at Each Peach?
I love messy and sensory activities whether it's paint and shaving foam or paint in the shaving foam – the children love creating messy fun pictures. It gives them the opportunity to explore different textures, colours and materials.
What makes Each Peach different?
Their standard of childcare is truly wonderful and the ethos all the staff have is great. All the staff are level 3 or above, which is really apparent in how they all really help the children with development using great activities and experiences that are catered to each individual need, like and personality.
What's your view on the role of nursery teachers in the early years?
Many people tend to view nurseries as somewhere just for children to be looked after and cared for which, of course, they are – but the nursery experience should be so much more than that. 
I think nursery teachers can play a key role child development and start them off on the right foot before going to school. They really help the children to develop all the skills they need to take that big step into a school setting. Without that added educational element that nursery teachers can give to the children, a lot of them would be swamped and get lost at school. So I think the role of a nursery teacher is paramount to children's early years and those developmental milestones!
What advice would you give to new parents nervous about sending their children to day nursery for the first time?
I totally understand it can be nerve racking sending your children off to a nursery. I remember feeling that way when my two children started and I knew the nursery but I was lucky because I knew the nursery teachers well having worked there and trusted them 100%. Even so, it's still a hard step to take and must be worse for parents who don't know the nursery as well as I did. 
My advice first-of-all is that before you choose a nursery, view as many as possible in your area. This way you can get a really good view of how different nurseries work and a glimpse at how the staff are with the children. Try not to get distracted with material things and decor, instead pay attention to their ethos and policies use that gut feeling as well. 
Don't be afraid to ask questions, even if you think they are silly they won't be, the aim of looking round the nurseries is to get all the information you want and need so you can make an informed decision. All of these elements play a part in picking the right nursery for you and your family. The nursery teachers will be supportive and understand it's totally normal to be nervous, and the right nursery for you will strive to make you and your family comfortable.
A joy to work with for her colleagues and children
While Mollie has joined the team as maternity cover Deputy Manager on Ellie's return she will be staying on as a Senior Nursery Teacher, which we are all delighted about! Mollie has a beautifully bubbly personality and is a delight to be around and of course the children love her! If you enjoyed this you might also want to read our recent blog on 7 lessons we can all learn from Winnie the Pooh.